With new labels popping up all the time, it's sometimes difficult to tell who's going to stand out and bring something fresh to the scene. Not with the birth of Acrylic, however, created by Cardiff's Quartz (Elliot) and Berlin-based duo Survey (Stephan and Hardy). With an impressive back catalogue of work between them on labels such as Dispatch, DSCI4 and Invisible just to name a few, these guys come armed with years of experience and are here to give something back to the genre they love.
Falling into the realms of the deeper and darker side of DnB, their first upcoming release on 2nd March is certainly one to watch out for. Two killer tracks – 'Shrunken Heads' and 'Motion Design' which don't hold back on showcasing their production prowess, along with Kid Drama delivering his signature sound on a remix of 'Shrunken Heads'.
There are plenty of funky drum and bass tunes out there and similarly just as many tracks that carry industrial, atmospheric tones but I think it's a rarity for artists to nail industrial and groovy all in one tune. That's why Quartz and Survey have always brought something unique to the DnB world, putting a modern stamp on old school sounds. This release puts a smile on my face because the tunes are so well thought-out; I can just imagine Elliot, Stephan and Hardy working on each sound until it's engineered to perfection!
I've had the chance to catch up with the producers and find out a bit more on how the label came to be, so have a read below and get to know Acrylic.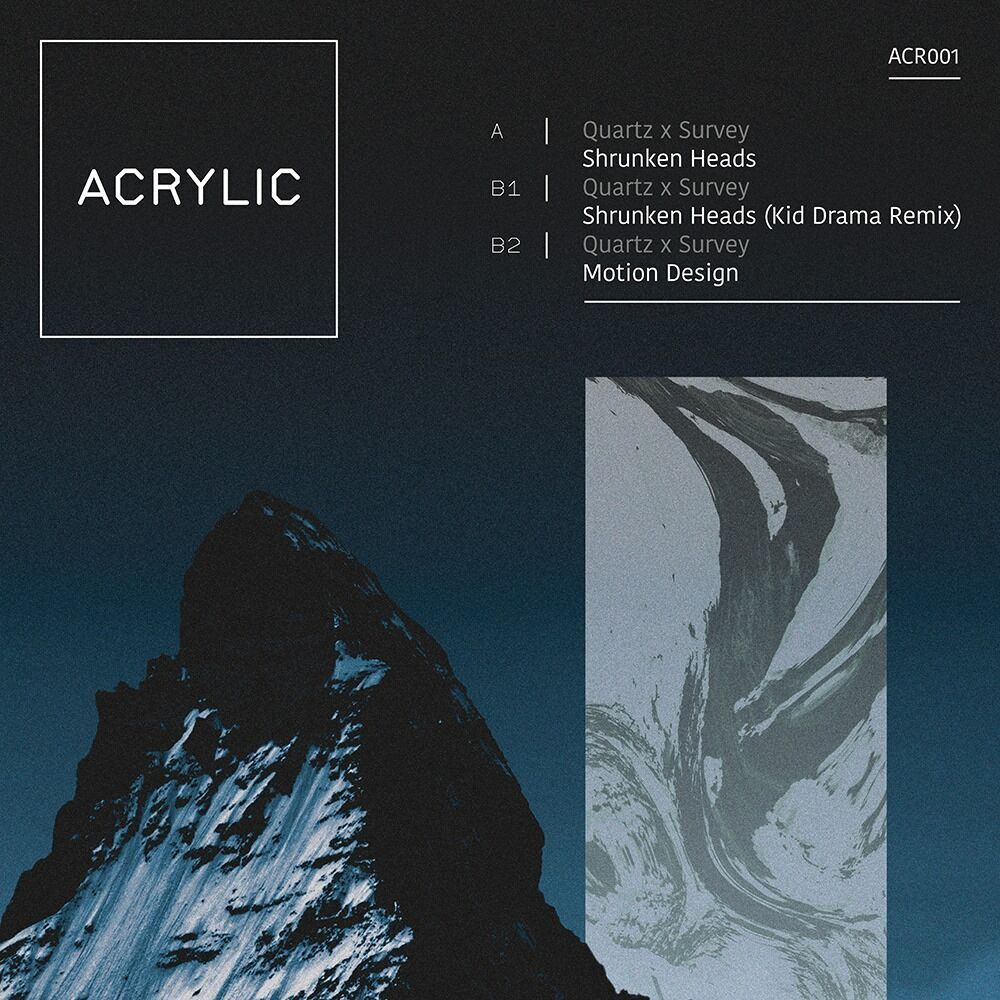 Hi guys, I'm excited to see you uniting for this project, and curious to know how Quartz and Survey met. Have you all known each other for long?
Stephan – We've been good friends for a few years now, but like with many friendships in drum and bass production these days, it was mainly formed online. We were both mutual friends with Duncan (DJ Trace) and we complimented each other on our music. That led to working on some tunes together and we formed a really solid friendship through the music we were making together.
You've no doubt been very busy running up to the first release. How did Acrylic start?
Elliot – We had so much material accumulating that we weren't using anywhere else and we wanted to offer our own contribution to the scene. It's just a labor of love, with us combining our visions and putting in what money we have to continue the series.
How did you come up with the name and look of the label?
Elliot – We threw a load of names around for a while and 'Acrylic' just ended up sticking really! The name suggests being both a creative tool and a journey for us – the same way in which a drawing or painting develops over time. I have a close friend who is a very talented graphic designer – Dave "Intex" Knapton – and he was able to take our ideas and find a happy medium while putting his own creative spin on things.
I like the idea that 'Acrylic' is art which takes you on a journey because music does that so well. Is being physically apart a challenge when it comes to producing? Or does it work because you're all on the same wavelength?
Hardy – We can send each other something and the other will know how to play it so living in different countries hasn't changed the dynamic in how we work. We chat most days and use opportunities to catch up if we cross paths. We have a great thing going – there's a real good connection there and we feed each other's motivation, inspiration or creativity in one way or another.
What about the first tunes – how did they come about?
Stephan – We felt that the three tunes were a good narrative of the stuff we make together and the direction we see Acrylic's sound heading in future. "Shrunken heads" is something we were just kicking around at a time when the label was starting to take shape.
Elliot – "Motion Design" came together fairly quickly; it was made with intent to pay homage to the sound of the old guard we admire. The remix came around after we asked Kid Drama if he would mind doing one to help celebrate the label's beginning. We've been in touch for a few years and I've been a big fan of his work for a long time, so having him on board with the first release is sick.
I love Kid Drama's work too and he's definitely put his signature spin on Shrunken Heads. Are there any other producers you'd like to work with or have on the label?
Elliot – Right now it's just us running off each other's ideas to see where it takes us. Guys around me who are immensely talented are Gremlinz, Rhyming in Fives, Boston, Xanadu and Fluidity.
Hardy – We'll just put stuff out on Acrylic as and when it feels right. No doubt some music from others will make an appearance on the label if we feel that the sound fits. A lot of names come to mind when it comes to the label; producers like Amoss, SubMarine and PRTCL to name a few.
A great host of talent right there. Do you think you might put on Acrylic events in future then?
Elliot – There will be a launch at About Blank (Berlin) on the 2nd March which is the record's release date. The line-up is Kid Drama, Survey and I. We're planning one or two more events but it's not going to be a constant thing, just something as and when we have music to offer.
Tell us a bit more about the "Components" series. I've listened to the first mix (quite a few times actually) and enjoyed it a lot!
Stephan – Thanks! The "Components" mixes will be scarce, happening when we feel we have more music to offer. It's just a window into the Acrylic sound and our music. The series will be untracklisted, mostly containing our collaborations or individual music and sometimes music from friends. Either way, it will always contain music we believe in.

(I'd kick back and listen to the first Components mix when you get the chance)
Thank you for chatting guys, it seems like we've got a lot to look forward to!
Elliot – Thank you for having us
Hardy & Stephan – Thanks and yes we'll see what the future holds…
ACRYLIC 001 audio previews will be up on Soundcloud as of this Sunday, 11th February and released on 2nd March.
The guys fell in love with music by collecting vinyl and have decided to stay true to the medium, putting all the label's releases out both digitally and on vinyl. The vinyl is limited to 300 pieces per run so if you want these gems in your collection then I'd seize them early by pre-ordering the tracks, available from this Thursday onwards!
– ACRYLIC LINKS –
Soundcloud
Facebook
Twitter
Instagram
– QUARTZ –
Soundcloud
Facebook
– SURVEY –
Soundcloud
Facebook
– LABEL LAUNCH EVENT –
Klangbiotop x Acrylic
(Kid Drama | Survey | Quartz)