I went #Backtothewoods a few weeks ago to check out Farr Festival, the intimate underground music weekender set in an unassuming and idyllic countryside forest in Hertfordshire.
First of all I have to say a huge thanks to the Hustle team behind the festival, with whom we go back a little bit after attending for quite a few years, for helping us out with a medium-late application and to all of the staff there for generally being friendly and welcoming over the whole weekend.
The crowd were who really made the festival though. There were zero bad vibes the whole time, we got wiggy with woodland warriors the whole weekend and it was wonderful. People from all over the place coming together to have a good time, which is how it's meant to be. Too often though, especially at bigger events, crowds become divided and segregate usually based on genre or perceived social standing into wholly divided entities. Then you get a crowd mentality complex (surely everyone's read Lord of the Flies) and the festival vibe becomes somewhat lost between the tents. This is exactly what we didn't experience at Farr. Literally everyone gets on… no lie I bumped into my ex there and it was calm! Farr regards its size as the key to its success, so the festival is small and intimate so at 4000 people (or 5000, I heard different accounts), you often bump into people you've met or friends of a friend and if you're lost you soon become acquainted with other revellers very quickly. I heard from some people that 3000 people came last year and it felt more like a private party so this year is definitely a good step-up, though I'd even suggest maybe going up another 10 or 20 percent next year so every stage is always completely full, I'm a viber though what can I say…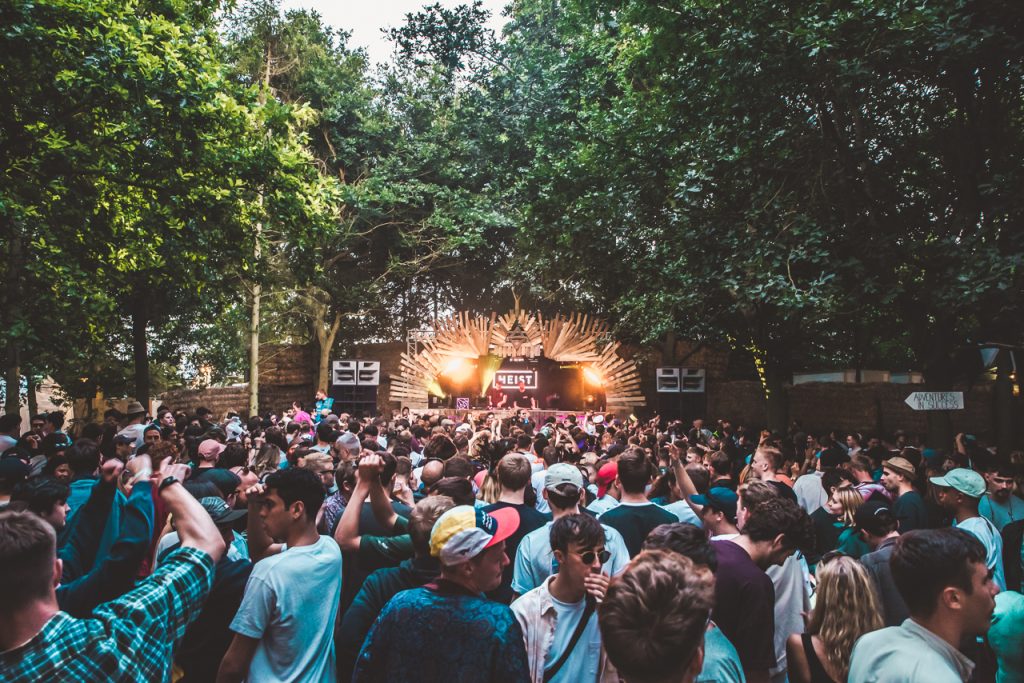 The setting was awesome too. You camp in a little field and it's a five minute walk to your car or to the stage area where even the security are friendly. My boy lost his little Nike shoulder pouch/satchel (see: douche-bag) on the first night after he put it down to rave? Anyhow he got it back within 12 hours from security with EVERYTHING still in it. That's the kind of security that you want. Back to the setting, there was a huge tent in the centre of the festival field area which was going heavy every single day and night. Two of the highlights of my weekend were catching Vivek and our boys DBridge & Skeptical in that tent, aptly named 'This Must Be The Place,' killing and billing on the ones and twos.
Day-times at Farr were spent either catching rays and Pokemon over pints of reasonably priced £5 pints of Sagres, munching some dank hot dogs or warm cheese sandwiches (s/o to Ntokozo the Zimbabwean Scholar) or doing something cool Farr had arranged like watching a screening of Human Traffic on at 'Shared Vision' or being exceptionally shit at yoga. The screening was fully legit, and led to a weekend of shouting, slurring, screaming and every other type of voicing 'NICE ONE BRUVVA' at other festivalers to which we always got a (relatively) healthy response. That actually reminds me of the Suhhh Duuu epidemic that rapidly gripped the population of village Farr. Lock up your friends, this will undoubtedly be infiltrating a festival near you soon. You can't escape it. It's just too much.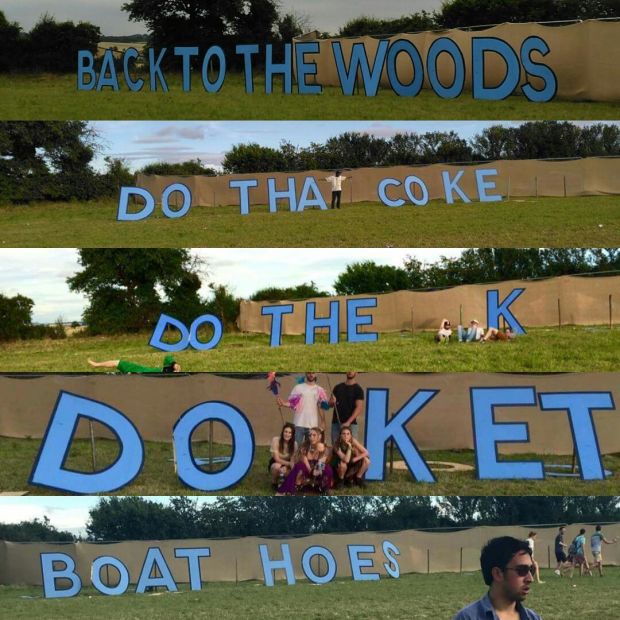 The BackToTheWoods sign didn't last long… Credit to whoever took this photo but it was refreshing to see a new burst of genius  splurged over the signage each day. To be fair it's a little depressing exiting an enchanted hidden music forest kingdom to go back to a shitty two-man tent in the cold at 4AM, so how else are people supposed to exude the rest of their energy? 4AM was a great time to close the stages, and one let down was the early finish on the Thursday night as no-one wanted to engage their batteries just to be put on a back burner for 3 hours after the music finished. Hopefully next year they'll up it from midnight to let the crowd fully engage in what was actually a very strong line-up. Heist done extremely well to bring the crowd alive as most people congregated on that stage 'Adventures in Success' but in my opinion it was Detroit Swindle who really, for me anyway, took the cake on the Thursday night, finishing on Midland's banger 'Final Credits' which counter-productively just left the crowd wanting more. Apparently that's the way to do it though? – "Always leave them wanting more" – Chabuddy G (Hounslow:2015)

[soundcloud url="https://api.soundcloud.com/tracks/264548524″ params="color=ff5500&auto_play=false&hide_related=false&show_comments=true&show_user=true&show_reposts=false" width="100%" height="166″ iframe="true" /]

Besides the aforementioned, my favourite acts were probably Helena Hauff, the Hamburg DJ and Producer with a startling amount of energy, talent and bangers no-one could even ID, and Mike Dunn, the Chicago house DJ from, well, Chicago, who I'd heard little of before the weekend but kept hearing about throughout the weekend to the level where I feel like he's sort of a friend of a friend that I'd say hi to at a party. He was a real crowd-pleaser and I'm glad to have been introduced to one of the pioneers of a sub-genre that I'm becoming increasingly enthralled with.

My top stage was 'The Shack', set in a sort of crater (should be called the crater) which caused everyone to congregate under a bizarre red and white light show underneath clothes lines with kids dungarees and socks pegged to them. What the hell was that about? Really weirded me out. If anyone outside had seen that scene without context they would have been stunned to say the least, but it encapsulated the friendly vibe of the festival centred around a communal love for some serious house music. That's all that the festival claimed to be about, and that was exactly what it delivered. I'm really glad to have gone this year and so was everyone else I went with, I met some wonderful people and didn't feel like I was being mugged off or confronted once. I know the whole crowd I was with will be in attendance next year, and I even met an Aussie girl who's apparently keen to travel here again for the vibes next summer, kudos if she does. Until next time woodland warriors…

#BucketGang

Franklin