Last week I managed to finally get to speak to one of my favourite artists in the Drum and Bass world; the young, eminent and incredibly intriguing Kimyan Law. The premeditated subject of our conversation was his much anticipated 11-track album 'Zawadi' (zah WAH dee) forthcoming on Blu Mar Ten Music this Friday, just over two years since his LP debut Coeur Calme. However we ended up discussing a great deal more about the 21-y/o liquid innovator and his life in Vienna, than just his music.
Hey Nico! How's it going?
Hey Joe I'm doing great, thanks for having me.
No problem, let's get down to it. How did you get involved with Blu Mar Ten?
Well I got quite lucky with Blu Mar Ten, once we were speaking for like a month, they got me to really invest in my music and I suppose realize my talent. They introduced me to the whole Drum and Bass world and industry of actual people producing that music. Linking in with them was the best decision I've ever made, so far. They got me my first gig at Building Six in London for Hospitality. I was so nervous when I saw how huge the venue was but it was an incredible experience.
I can imagine, I think. You done a few with Hospitality right?
Yeah they booked me a couple of times in different places, which was great for me because I love meeting people who share the same passion for music as I do. So many different people and so many different vibes going on, it's all positive.
What's the best crowd you've played in front of?
Hmm let me think, I've never experienced a bad crowd or like a rude crowd-
Well that's because you're music's too good!
Haha well that's your opinion and I'm glad to hear it but I'm not always that sure about it. I'd probably say Von Krahl which is an Estonian Art House kind of club in Tallinn, that's the best one outside of my hometown, it was kind of packed but small and intimate. That was the Sublime Drum and Bass event. It was really intimate and I ended up speaking to loads of people afterwards, a couple of people told me they'd travelled from Finland to see me which was incredible, so I bought them a drink and we hung out. It's the nicest thing.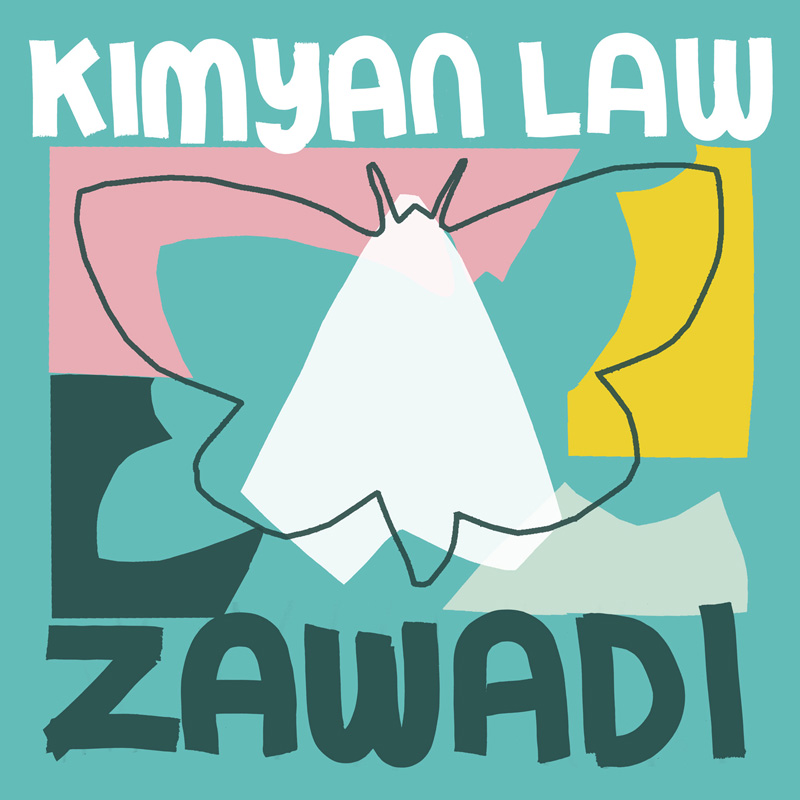 Being successful so young, would you agree that Kimyan Law is a role model for young producers out there?
I started listening to Drum and Bass when I was nine years old. I don't know about a role model, but I deeply feel like any young person out there who has an interest in something should pick it up and follow it. Always try something. Sit back and think about what you're most passionate about and start digging into that.
So Coeur Calme was two years ago, what's changed?
Coeur Calme was more of a childhood reflection, it was an ambiguous cluster of memories that I tried to express with sounds instead of words. Zawadi, which by the way people have been wrongly translating as 'Gifts',  in the Congo it would be 'Gifts from Above'. My Dad used to say it a lot to me and now I'm comfortable I'm in my sound-wave. I want the tracks to say something, to scream out, all the phonetics to make an emotional nuance if my English is correct, and I think I'm better at that now. That's the difference.
Zawadi is dark, mysterious, melancholic, is that reflective of a feeling you're trying to convey?
Now's a good time for me to explain. I started the LP a year ago as a huge sound cluster adapted to a concept, and the concept is a hundred percent dreams. I can't seem to find a nightmare on the album but each track represents a dream. Aspirations, wishes, cravings, every sense of the word you know? By the time I started the album I had insomnia for like three days and it was harsh and I lost my ability to dream every night and I laid there trying to remember dreams. Ever since I started the album I didn't dream until a few months ago when I finished it, it's crazy.
That is crazy! I dream every night too and if I don't dream I feel like something's wrong.
Exactly! That was the problem. The album begins when you go to sleep and ends when you wake up, each track represents a state of sleep or part of your journey through sleep.
This is such an interesting concept. So where would you place 'Luba' for example? That's my favourite track on Zawadi by the way.
Hmmm. It's right in the middle, the second-stage sleep where you enter deep sleep. I ask my Father lots of questions about our heritage and found out that I'm partially descended from the Luba tribe about two hundred years ago, and I feel like I have rhythm inside me which is why I put in the authentic drums. I'm always drumming, you can hear polyrhythmic patterns in so many everyday sounds. I never have a solid recipe for making a track, but this one came from a bothering dream, a deep respect of the place where people came from long before us. You can hear guys yelling in the track, and that was actual language at the time. I made the beat from a table and duct tape, with a pattern I thought would never fit in, but it worked out. You have to find inspiration in everything, I'm making beats all of the time with the most mundane of instruments.
Well when you're at home and not making music, what are you, Kimyan Law, listening to?
I listen to everything bar death metal and really repetitive or aggressive music. I want the rhythm to talk to me, and that comes across in multiple genres.
Ok, it's Friday night and you're not playing a gig, what're you getting up to?
I'll probably cook something. I think cooking's an art form, kind of like music, you just put all the matching ingredients together and if it works it works. After I eat I'll grab my Dictaphone and maybe a few mates and drive round Vienna. I'm searching for sounds, smells, colours, people, anything stimulating, and combine it in my head until I can translate it into music.
Interesting. Now I wanted to touch on something else, if you're comfortable. I read that you faced racism growing up in Vienna, is that the case?
Yeah, I did. I was pretty much the only mixed race kid in my let's say district and a few people were hateful towards me for that reason. I never wanted to address them about it though because it's probably not even stupidity or ignorance, like it's just been passed down from another generation and you can't do a thing about it. The problem is communication. In hindsight, I know it sounds really cheesy but it made it who I am today.
Has that been reflected in your music?
In the first album some of the tunes were very brooding and melancholic, that definitely stemmed from my teenage years, take Copper Clock for example, that emits depression. The second album in comparison is much more earthbound and less ambiguous, it's much more clear than the first one, even if it's not that clear ha-ha.
Where do you see yourself in five years?
Cooking, making music, not having cut my hair. I have a life goal and a plan which I want to do, but let's see how things work out. There are a lot of collaborations I want to do and not just in music.
Well thanks very much for catching up with us, it's been an absolute pleasure.
Thanks for having me!
To pre-order Zawadi or to find out more about Kimyan Law, check out his website or Facebook, or get onto the Blu Mar Ten site.
Franklin