2013 was without a doubt a big year for drum and bass… I think it's fair to say trends in the commercial music industry are cyclical, and 2013 saw a clear revival of drum and bass in the charts. Wilkinson got a place in the top 10 with 'Afterglow' and Rudimental reached number one in the singles and albums charts. I will be honest and say that certain commercial strands of the genre, for example, the likes of Hospital Records who continued on their path of pristinely packaged drum and bass, their releases for the large part tantamount to a dnb equivalent of house music's David Guetta aren't really our thing over at In-Reach. Neither are releases on the somewhat cheesy and infinitely predictable side of things. Harsh words aside however, despite facing the presumptuous 'you're one of those' glares (by 'one of those' I mean the ones that like jump-up or the ultra polished, synth heavy Ibiza dnb sound) whenever illustrating my passion for the genre, I think the success of drum and bass in the mainstream is perhaps a wider reflection of heightened interest all round, and if this is something that's going to get more people through the 'gateway to the good stuff' then why not?
Beyond the strict confines of commercialism and out with the mainstream limelight is where we at In-Reach believe the genre has been at its finest. Undoubtedly a year in which underground drum and bass has thrived, once again, 2013 saw a group of producers, DJ's, Promoters and labels that through their dedication and passion for the genre continued to push drum and bass in innovative, imaginative and truly pioneering directions. We felt it only right to relive 2013 and highlight what we at In-Reach believe were the biggest events, the stand out tunes and most memorable moments in drum and bass!
January – March 
After a few too many mince pies (my situation now) and an endless hangover, induced by a long December of non-stop alcohol consumption (definitely my situation now) Lenzman and Dan Stezo eased the pain and welcomed us to 2013 with this massive mix:
This was a relatively quiet quarter in comparison to the rest of the year on the album release front, make no mistake though – the albums released were by no means short of brilliant. Here are a couple of our favourites: 
Survival and Silent Witness – 'In From the Wild' (Dispatch Recordings) This (aside from the album sampler) was the first release of the year on Dispatch Recordings and an unquestionable indicator of the exceptional catalogue of music that would be represented by the label in 2013. An album built upon omnipresent dark and industrial vibes, 'Tracer' ft Cern is certainly one that got us excited.
Calibre – 'FABRICLIVE 68: Calibre'– 'FABRICLIVE 68' is a truly exceptional contribution to the legendary Fabric mix CD series. In Calibre's own words: "they're tunes that I've been playing for a long time some of them, so the mix is a representation of my work over the last ten years" – I'm sure you don't need me to tell you that a mix CD embodying the musical journey of Calibre, is a mix that should by no means be avoided.
Of all the tunes, singles and EP's released in the first quarter – below are a number of those that have stood out to us the most: 
Bungle – 'Astral Travel' (Soul:R) 
Arkaik – 'Cutting Edge' EP (Diffrent Music) 
Tokyo Prose – 'Raised by Wolves' (Samurai Music, Red Label)
ST Files & Response – 'Nailbomb / Hardtimes' (Ingredients Records)
Nymfo – 'Suddenly' (Commercial Suicide) 
Vagabondz put on a special event at the beginning of February 2013… A charity fundraiser in aid of Save the Children's Syria appeal. A great cause and with a line-up as heavy as this one, including artists from various parts of the bass music spectrum; DBridge, Hatcha, Rattus Rattus and Marcus Nasty to name but a few, it was certainly a good excuse to get the glad rags on and let the drinks flow.
April – June
First of all, I think it's important to remind everybody of the dangers associated with getting behind the wheel whilst listening to any of the said tunes in this feature – In April this happened:
On another note, the second quarter of 2013 was one both joyous and deeply distressing. On one hand, the releases and events were quite literally exceptional, 'Mans on Road' was uploaded to YouTube and we were treated to a Kurupt FM Radio 1 takeover. On the other hand, on Wednesday May the 1st an official statement was made, announcing that Cable would be closing its doors. This was an announcement that rapidly circulated the underground dance music community and brought with it great discontent. As one of the countries primary spaces for representing underground music and as an establishment in which people have accumulated some of the greatest memories (I don't think I speak alone here)… It will be sorely missed!
You may have wondered the reason for Cables closure, and it transpired to be the responsibility of Network Rail. Below is an image of Network Rail cutting through Cables shutter… RIP.
Cable business aside, two of the most eagerly awaited albums of the year dropped over this three month period:
Calibre – 'Spill' (Signature Recordings) 'Spill', Calibre's eighth full-length album is certainly a release that illustrates the incredible all round talent of Dominic Martin (Calibre). With the beautiful cover art drawn by the man himself, I don't think I'm the only one questioning whether there is anything Calibre can't do? The album doesn't exactly push innovative boundaries, but that doesn't matter – Calibre represents something wholly different. The boundaries Calibre pushes are those of organic musicality; soulful, exquisite and engaging music – this is a thirteen track album that's distinctively Calibre, and unquestionably genius.
Alix Perez – 'Chroma Chords'  (Shogun Audio) I will be honest, this probably wasn't a personal favourite of the year (largely down to the lack of drum and bass) but it was one that got everybody talking. Whether you like the album or not Alix Perez is certainly a master of beat engineering and this is an album without a doubt unpredictable and  forward-thinking.
 There were numerous brilliant singles and EP's released over this period so we've narrowed it down to a few of our favourites…. 
Kalm and Carera – 'Ton of Bricks' (Nurtured Beatz)
Chroma – 'Intermission'  (C.I.A Records)
Mako & Villem ft. Fields – 'Whatever Whatever' (Warm Communications)
Marky & SPY – 'Yellow Shoes' Calibre remix (Innerground)
Emperor – 'Begin' EP (Critical Music)
Enei ft Chimpo – 'Headtop' (Critical Music) 
April saw DBridge celebrate 10 years of Exit Records at Fire with one of the most ridiculous line-ups of the year. Headliner Bad Company was enough to get everybody talking but add to the list Calibre, a Blue Note set by Doc Scott, Marcus Intalex and a classics set by Breakage – this event was the stuff of dreams! Unfortunately, the night had negatives as well as positives- tickets were oversold, and the venue was overcrowded. The situation was one of damp clothing and sticky skin as a result of a few too many beers poured over your head, the shoving common at drum and bass events went up a few notches and there was minimal room to make shapes. However, venue logistics aside, the massive line-up lived up to hype and musically this was a night that couldn't have gone any better!
July – September
With festival season coming into full swing, the final season of Breaking Bad being aired and Clive Martin of Noisily taking his 'Big Night Out' series to a drum and bass night in Reading… it's fair to say this was an eventful few months!
Clive's choice of event was stereotypical to say the least. Hinting at violence as a common occurrence, something that couldn't be further from the truth – especially when considering the amount of 'marching dust' circulating club premises, his perception of the crowd depicted that drum and bass listeners "match their polo's to their new eras", rock the Reebok classics (surely nothing wrong with that) and dance as if their "driving an imaginary lawnmower" (he got me there). Distorted opinions aside however, he did get two things right; firstly that "even the free bus pass crew couldn't escape those filthy riddim's" and secondly drum and bass truly is a scene that will never die. I feel the re-emergence of Doc Scott's label 31 Recordings over this period was a perfect paradox of the pigeonholing of drum and bass accentuated in 'Big Night Out'. The first release post the labels 3 year break was by Overlook – each tune (see below) a faultless example of all that is visionary and innovative in drum and bass.
Two huge compilation albums dropped in Q3; both albums use space as a fundamental creative element and represent the genres diversity profoundly. Without a doubt two of the finest albums this year: 
Various – 'Mosaic Vol.2' (Exit Records) This is an album that features some of the biggest names in underground music: Machinedrum, Om Unit, J:Kenzo and Dub Phizix to name only a few. Big things were anticipated for Vol.2 and we certainly weren't disappointed. A huge triple LP, all 28 tracks are captivating in their entirely forward-thinking approach to infusing cross-genre influences.
Various – 'Scope' LP (Samurai Music, Horo) 'Scope' is  a compilation album that was released on Samurai Music's vinyl only sublabel, Horo. A landmark album for the label, this was a huge project that saw the strictly vinyl protocol broken – 'Scope' was released over 5 LP's, digitally and via CD. Both progressive and futurist the likes of Sam KDC, ASC, Klute, and Reza and Gremlinz contributed to an album that flawlessly represents the deeper end of drum and bass.
This was a busy few months for singles and EP's – It was almost impossible narrowing them down, but after much debate, here are some of our favourites:
Loxy, Resound, Escher, Blocks and  ASC – 'Monsters' (Narratives Music)
Chimpo – 'Frontline' EP (Soul:R)
Break, Detail, Tiiu – 'Steamtrain / Days go By' (Symmetry Recordings)
Survival – 'The Dub Soldier' EP (Dispatch Recordings)
Spectrasoul – 'Sometimes We Lie' DLR Remix (Shogun Audio)
Spindall, Kalm, Kyrist, incognito, Antagonist – 'Gravis' EP (Nurtured Beatz)
Om Unit – 'Sleepwalkers / Grey Skies Over Chicago / The hand' (Metalheadz)
Xtrah, Codebreaker MC, DRS, Break – 'Lost Time' EP (Symmetry Recordings)
Fields – 'On Your Own / Colours' (Utopia Music)
Hydro, Mako, DLR, Villem, Linden, Fields –  'The Formula / Saturate' (Dispatch Recordings)
Moving slightly away from Drum and Bass, one of our favourite Mancunian MC's – Skittles, came together with MC DRS and Fox to create what I can only describe as one of the most incredible music videos of the year. It's been on repeat and I even found a space for it in my dissertation…
It was a busy few months for In-Reach on the events front. The festival season kicked off for us at Farr Festival, a brilliant Friday night saw DBridge, Spectrasoul and Alix Perez grace the decks – unfortunately Saturday was a strictly house affair. As a boutique festival Saturday's lack of variety was understandable, I would therefore stress only get involved if you're partial to a bit of house – 12 plus hours if you're not a fan… and that repetitive 4/4 beat can contribute to a near breakdown.  Line-up aside however, I lost myself in those corn fields and down to too many unmissable events thereafter, only found myself after a much needed few days in bed post the pinnacle of our summer, Outlook Festival.
Outlook was all I expected it to be and more, the line-up really is something to get anybody that's ever been to Fabric (or alternate city equivalents) excited. The festival features the majority of underground dance music's finest artists and the spaces in which they play are unrivalled – boat parties, a coliseum and a moat… Need I say more?
Not only did this quarter see us board boats in Croatia, but we also set sail on the River Thames for the Fathom Audio boat party, very big indeed.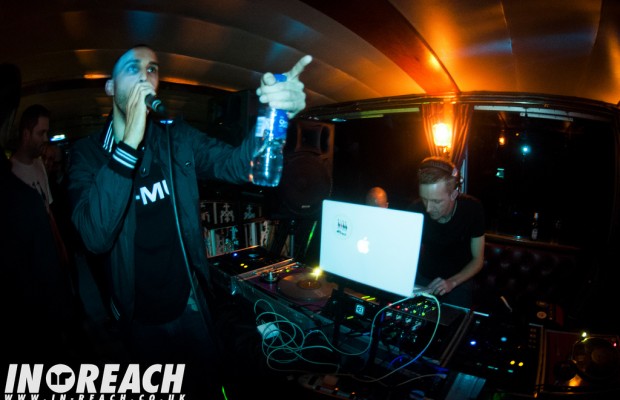 October – December 
The run up to 2014 saw X-Factor once again get the Christmas number 1., I'm deeply upset the 'won't techno for an answer'- Boddika for Christmas number 1 campaign failed. On the positive side though, in the months counting down to Christmas the drum and bass community were spoilt, with a number of the years most eagerly awaited albums dropping.
Below are a few of our favourite albums from the final part of 2013: 
Machinedrum – 'Vapor City' (Ninja Tune) The album cover art – an industrialised, crowded and shadowy metropolis is a stunning representation of the endearing and intense nature of the beats. A remarkable album of atmospheric jungle, I can safely say buying this LP was one of my better life decisions, opener 'Gunshotta' significantly contributing to this view.
Om Unit – 'Threads' (Civil Music) Om Unit's 'Threads' was certainly an impatiently awaited album in drum and bass circles, particularly as a result of his hugely successful tunes on Exit Records and Metalheadz earlier in the year. The album is one largely in half-time tempo; atmospheric and profound his musical landscapes play on intense yet subtle build-ups. Despite thoroughly enjoying the album and fully appreciating the esoteric charm of the smoother tunes – having heard Om Unit's output on Headz, I can't deny I was hoping for a few more tunes with a similar cutting energy to that of 'Governer's Bay'.
Various – 'Transit 2' (Dispatch Recordings) Without a doubt equalling the brilliance of part 1 in the Transit series, this was an album that staying true to the Dispatch ethos provided a platform for the finest of beats from upcoming and established producers alike. An expertly engineered album, eclectic in style and comprised of tunes as prodigious as 'Ballistix' by Silent Witness and 'Pain' by DLR. This is one of those albums in which each tune evokes the kind of mesmerising energy, powerful enough to pull a crowd of 6am ravers out of the harsh reminder of reality and back into that perfect drum and bass daze. Unarguably one of the finest releases of the year.
Jubei – 'To Have & Have Not' (Metalheadz) An album constructed of an intense industrial narrative, this is an intricately crafted LP that journeys through varying BPM. Jubei from start to finish entraps the listener in a musical landscape both unyielding and harsh yet entirely intriguing. From start to finish this is an exceptional album, and undeniably an LP that did the expectations justice.
Various – 'Evolution of the Giraffe' (Diffrent Music) Leonard the pink giraffe is a character that's become rather infamous in drum and bass circles. Frequently found on the T-shirts of those in the genres dance halls – Leonard represents one of our favourite labels, Diffrent Music. 'Evolution of the Giraffe' is a milestone release for Diffrent Music, not only the labels first album, this is a compilation that through a flawless blend of diverse sounds and styles represents the past, the present and the future of the label. If you haven't already, I would highly recommend getting your hands on one of those handsome pink 12″s.
In the closing months of 2013 we felt the stand out tunes, singles and EP's were:
Various – '5 Years of Flexout' (Flexout Audio) – 5 singles were released over 5 weeks all of which were exceptional.
Sam Binga / Redders- 'Ayo' (Critical Music, Modulations)
Gremlinz, Homemade Weapons, Collinjah, The Untouchables and J:Kenzo – 'After Dark' EP (Samurai Music)
Dom & Roland – 'Outta Endz' (Metalheadz)
Kolectiv – 'Archetype' EP (Proximity Recordings)
Mikal – 'Immaterial' EP (Metalheadz)
Shiver – 'Crossover' (Flexout Audio)
Spirits were high in this part of the year, not only did it culminate with presents, Christmas dinner and loads of booze, countless events meant we really did have a remarkable close to 2013. Diffrent Music's album launch was at the distinguished 'Diffrent's House' – the atmosphere at this event, a perfect blend of the positive vibes you'd expect from a mythical, entirely beguiling giraffe run house party. Genesis put on an outstanding charity fundraiser for Prostate Cancer UK and Metalheadz seriously stepped up the game at Fabric, something I didn't even feel was possible- with TEED doing a jungle set, Om Unit in the house and Goldie also gracing the decks, quite unmissable.
The final quarter of 2013 saw two stand out events though, firstly, Simply Vinyl's Utopia Music night down at Volks in Brighton. Break, DLR, Mikal and Mako on a vinyl only four-hour BTBTBTB – I don't think I could dream up anything better.
Nurtured Beatz also ran an unforgettable event. Amoss headlined, founders Kalm and Spindall went BTB and the the line-up was one of an all round closely knit Nutured Beatz family. It's this 'family feel' that really makes Nurtured Beatz nights so special, feeding into the crowd, there is an omnipresent atmosphere of the best kind of wavey unity!
It has been challenging to say the least, rounding up a year as extraordinary as 2013. Drum and bass music was again remarkable in its ability to evolve and advance in ever unpredictable and captivating directions. An abundance of brilliant releases by exceptional artists simply strengthened, beyond reason, our love for what we believe to be the most beautiful genre of music. I've heard many people say that drum and bass is more than just a genre, it's a lifestyle – and true to the word, reflecting on the experiences drum and bass brought with it in 2013, I think it's fair to say we at In-Reach can't wait to see what 2014 has to offer!