Post Outlook festival was a gradual recovery to say the least; the journey home was probably one of the most depressing experiences of my life and this was followed by a good seven days withdrawn from humanity, hiding in my bedroom. Outlook 2014 couldn't have been more worth it though; this was our second year covering the event and once again it outdid anything we could have imagined.

[dropcap]H[/dropcap]eld in Pula, Croatia, Outlook and its sister festival Dimensions (props if you managed both) are part of a prospering Croatian festival scene – because lets be honest, a holiday in a British field may be full of character but doesn't really hold the same appeal. The festival takes place in Fort Punto Christo, a factor that significantly contributes to making the Outlook experience pretty fucking surreal, I mean as a festival location can a nineteenth century coastal fortress really be outdone?

Location aside, the central focus of the festival is the line-up – if you're into bass music it's unlikely you'll find an event more up your street. Outlook brings together the various genres sound system culture has spurned; sets are played by the pioneers of these genres alongside the future influencers and the result is a celebration of the history and progression of bass music. The organisers of Outlook have created an entirely unique environment, not only is the event a monumental party, but I feel the festivals significance within the corner of the musical spectrum it sits has made it an influence to underground culture in itself.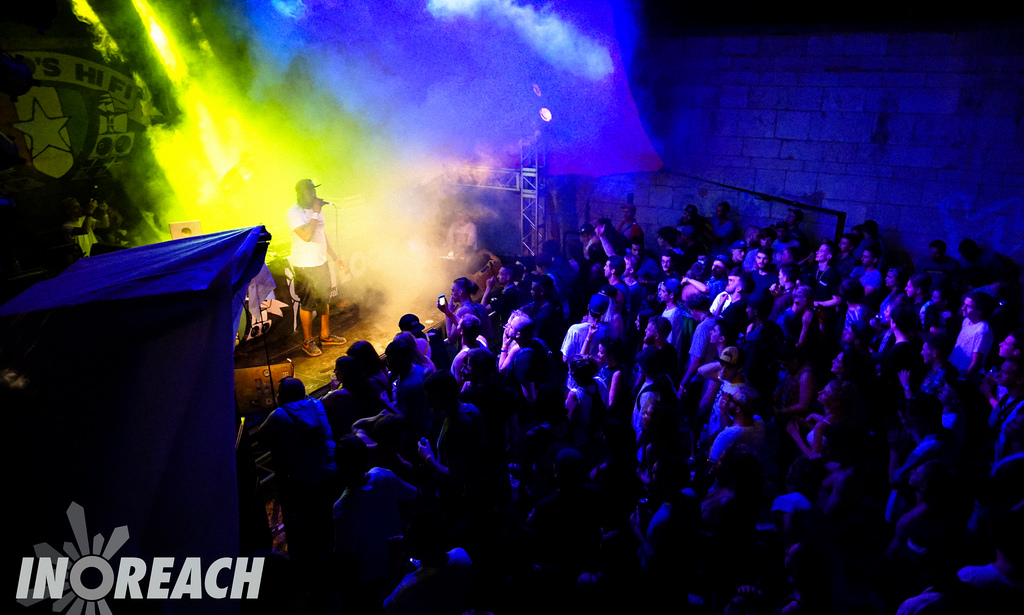 The adventure begins
You know those points in life where everything is hilarious; you have a sense of delirious contentment and feel like a bewildered space-man – a frame of mind only possible on extreme sleep deprivation? Well, on our six-hour car journey from Split to Pula this was the group mentality. Also, in case you're wondering what a drive through the Croatian mainland looks like, it is essentially deserted wasteland, made more pleasant by the shining ray of sunlight operating the tollbooth, a man that feigning confusion mugged us off by around £25. The mountains are beautiful though and I'm certain the coastal route would have been quite something!
Avoiding mistakes made last year, we opted for accommodation. Camping was fun and everything but my tent was a sagging failure. Also, as the Dimensions crowd depart and the Outlook crew arrive the average age drops… the campsite age demographic then down slides further and having experienced what this means last year I can quite contentedly admit that no longer can I handle this.
Our abode was situated in central Pula, a charming seafront city and a tourist destination but not overly so. The city is probably most well known for its remaining Roman architecture and whilst I'm under no illusion that during the day festivalgoers managed any great sightseeing excursions, Outlook have the cultural thing covered. The festivals opening ceremony is held in the cities amphitheatre; one of the largest remaining Roman arenas in the world, it is a building of organic beauty that has stood for millennia. The representation of largely underground music in such a magnificent structure makes a good point: the amphitheatre doesn't need to be dressed up; its appeal lies in its foundation and the quality of its architecture. This statement can be used as a metaphor for the music Outlook Festival represents.
Wednesday
Having spent the best part of 12 months at a considerable distance from any form of seafront, on our first full day in Croatia peeping the festivals beach area was of high priority. This again is something that really distinguishes Outlook; I mean it's what makes it a holiday right? Chilling on the pebbles, gazing out onto the Adriatic and taking in the rolling beats of the beach stage sound system.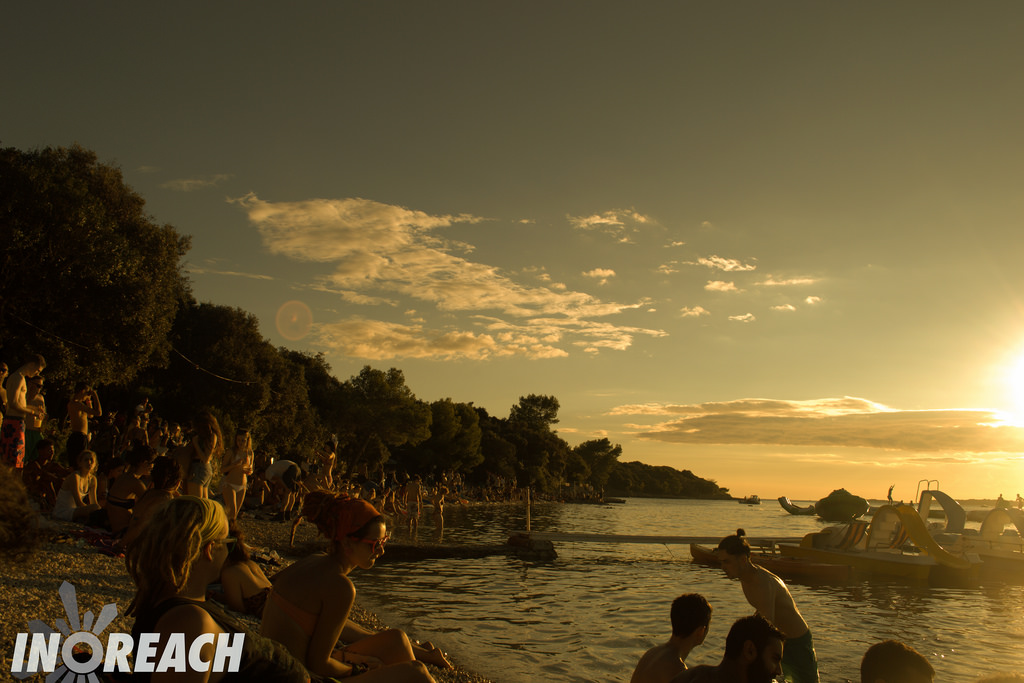 Not that I'm some sort of beach predator but people watching will always be fun. Outlook's demographic is the exact opposite of a corporate-sponsored pop-culture event such as V-Festival. Whilst you may *very* occasionally come across an over-groomed male wearing a deep V – their female counterparts also – the majority of Outlooks attendees are more on the trainer conscious, a bit of vintage and bucket-hat wearing side of things, individuals probably perceived as a strain of the all-alternative-culture-including word 'hipster'. To be honest, clothing doesn't really matter; the thing about Outlook is that the vast majority of people in attendance know how to festival and appear to be extremely knowledgeable about the music they're listening to.
Unfortunately we missed the opening ceremony this year but I've heard very good things about the performances of headliner Ms. Lauryn Hill and all of the support acts. Instead our roads led to the beach and a set by Kyrist. The fortress would be opening the following evening and with everybody anticipating a week of madness the atmosphere was intense to say the least.
Thursday 
Outlook is heavy; it's a minimum of 5 days consistent bodily abuse and as a seasoned festivalgoer I appreciate the importance of approaching this tactfully: eating will make you feel human. However, if you haven't consumed anything besides alcohol and paprika crisps (which by the way taste exquisite in Croatia) for a good 24 hours and still feel that a restaurants photographic representation of what you will be eating is unappetizing… it's not a great sign! Fortunately the calibre of eatery up at the festival beach provided a remedy for all that was lacking in Pula. With a number of different stalls covering most bases, I would like to give a special thanks to both the waffle and health food stands. The produce of these eateries was almost solely responsible for giving me the strength to continue.
Thursday evening kicked off with something of an anti-climax, both Calibre and EZ cancelling wasn't the greatest look. However, I felt invincible, Outlook do tokens instead of money and as a result I was considerably intoxicated with no recollection of how much I'd bought or spent. Our evening started at The Clearing, a stage at the entrance of the fortress where Onset played a heavy mix of forthcoming Dispatch bits and modern tech classics. Next up was dBridge, his sets kill it for me every time and Outlook was no exception. This was the first set of many in which we heard Mark System 'Optix' a tune so disgusting I find expressing my appreciation for it through the medium of dance very difficult.  
It was an incredible first night and my highlight was without a doubt Chimpo at Mungo's Arena. It was family vibes during this set; Chunky, DRS and Tonn Piper were on mic duties and having seen the Manchester crew a fair few times it's got to be said if there's an after party to go to it's definitely theirs! They had fun with the set and it fed into the crowd; witty bars, Chunky had the moves and Chimpo played an on point selection of dub, garage and 170 – although when he dropped the Home and Away theme tune I seriously lost my shit!
Friday
After witnessing the worlds worst beach dance off, a tragic display of men vs. women that for all of my abuse I certainly couldn't have enriched, we were rescued by an exceptional performance from The Mouse Outfit and Dr. Syntax. The curators couldn't have better timed this performance; hip-hop with that beautifully chilled out aesthetic, it was music with a blunt-smoking haziness that was the perfect accompaniment to a lazy afternoon on the beach.
One of the many selling points of Outlook festival is the boat parties. Having seen Exit Records in a Bulgarian strip club back in autumn, I can confirm catching the label on a boat in the Adriatic is equally fucking brilliant. The boat was a sell-out and for good reason; the Exit camp I'm certain could restore even the most profound of haters' faith in drum and bass. Sets by dBridge, Skeptical, Alix Perez and Dub Phizix were followed by a btbtbtb – the place was going off and rum in hand, it really was one of those 'can life get any better' moments! The evening's biggest treat – besides D dropping a VIP of Fracture's 'Loving Touch' queue a stunned audience, a shocked Chimpo and SP:MC stating 'even Chimpo doesn't have it' – was SP and Strategy taking to the decks and continuing the impeccable selection whilst MC dBridge delivered some pretty entertaining bars.
A night of non-stop positive vibes, next on the cards was Dispatch Recordings at The Moat. Without getting too heavy on the adjectives, this stage really is something else, I mean the bass reverberates to the extent it literally and figuratively moves you. Also, it's not like I'm regularly hanging out in moats, so to be cutting shapes to the sounds of Dispatch in what is essentially a deep, narrow, highly-walled medieval defence system is definitely an experience I'll be sharing with the grandchildren – urm, censored of course!
Saturday
Boat number 2, Dispatch Recordings. Setting sail in the very early afternoon, the first half hour was like witnessing a condensed, mid-festival version of the march of progress (or evolution of man). The Dispatch family – Ant TC1 & DLR, Optiv & BTK and Cern – coerced what was a sorry group sipping beers delicately, eyeing the dance floor with suspicion and playing it safe with a head-nod into a bunch absolutely going for it. The finest of tech-rollers were dropped, the DJs and MCs were clearly having a lot of fun, the tranquillity of the fact you're cruising the sea made it truly incomparable, and yeh, even though this is a bit cheesy, my face kind of hurt from smiling so much.
Back on land – the beach to be precise – I discovered the cocktail bar at a time that couldn't be more appropriate; Fatima & The Eglo Live Band were putting on an absolutely stunning performance whilst the sun set overhead.
One of the best things about festivals has got to be unexpectedly catching a DJ you're entirely unfamiliar with, the kind of artist that makes you question how you could possibly have never heard of that artist… Geode. This guy absolutely killed it, he played a blend of hip-hop, dubstep and garage mostly with tune IDs I have no idea about but need in my life. Whilst I won't deny that a contributing factor to my feeling of being hypnotised was something to do with MDMA (naughty), Geode really is an exceptional DJ, he built up an entirely consuming atmosphere and although my brain at this point in time probably wasn't the most reliable source of information, I'm pretty sure a proportion of the crowd were chanting his name – if not, this was happening in my head which I think is an equally good sign about the standard of performance.
The evening took a slight downturn when a not so stealthy spliff resulted in one of the gang being escorted to the police station – all good, it was a fine and no more. The undercover policeman responsible, a man with atypical central European features and clad in tight double denim, had actually been sitting next to us – all things considered, never has the phrase 'he stuck out like a sore thumb' been more apt. So how were we fooled you may ask? I reckon it was something to do with his iron-on union jack badge, next level trickery!
The best way to sooth any anguish as a result of being temporarily arrested has got to be catching a set by DJ Premier at the foot of a harbour. This man is ridiculous, he's a hip-hop legend and for good reason; hyping the crowd whilst simultaneously scratching, he dropped everyone's favourite classics: Biggie, Nas, Gang Starr etc. – I felt like I was having a breakdown.
Sunday
First up, two of the gang Arkaik and Amoss played a btb at one of my favourite stages – The Ballroom; a confined circular building with high brick walls and no roof, the sound in this place goes straight through you and with the beats these two were dropping you really had no choice but to two-step aggressively.
A very pressing and serious issue facing those at Outlook is line up clashes; I can honestly say making the decision between Metalheadz and Swamp 81 required every remaining brain cell. However, with Metalheadz celebrating 20 years of the label it would have felt wrong missing out on the sets of Dillinja and Grooverider with a 'history sessions' theme – right? Wrong! Whilst the first half of both sets absolutely smashed it to the extent I probably didn't even know my own name, the second half was jump-up which myself and the rest of the crew don't really get down with (that said, Hype is a guilty pleasure but no-one wants to be lured into jump-up under false pretences). Traditionally day 1 is the time to go hardest, I reserved this for the final day and peaked during the set of Doc Scott, this made everything in life, including a  few weeks of come-down ok.

To conclude

I'll keep it short and sweet as I feel like I've written a novel.

Outlook Festival 2014 was exceptional, besides the fact it's in an amazing location and the line-up is unmatchable, it's the people and the atmosphere that make it. If you haven't been already then I highly recommend you get those tickets booked and if you were there this year I have no doubt we'll be seeing you again next year!

Big thanks to the Outlook crew for having us down 🙂

You can check all of our flicks right HERE 😉

[x_share title="Share this Post" facebook="true" twitter="true" google_plus="true" email="true"][author title="About the Author"]