We caught up with djSoula and the other innerSoul residents. It's been an absolute pleasure connecting with the innerSoul crew. Thanks for sharing your experiences with In-Reach 🙂
Seriously peeps, if you've had a rubbish week at work an innerSoul night can be your therapy. There's nothing like hitting up a club night that makes you feel like you can't wait for the next one, innerSoul does just that.
"InnerSoul presents a more soulful side of drum and bass. The music selection, DJs, MCs and the encouraging vibes from the crowd definitely make it a night to remember."
So party people spread the word. Get yourself and your raving buddies down to the next night coming up 20th February at Plan B in Brixton. Create some great memories, satisfy your inner-soul and become a part of the inner-soldier crew.
When did innerSoul first come together?
It all started when we were all playing for the same internet radio station back in 2011. Despite coming from different musical backgrounds we all wanted the same thing and with that innerSoul was born.
What inspired you to start up innerSoul?
Quite simply… It was the lack of Drum & Bass events around at that time that catered for the soulful side of Drum & Bass.
Within the underground scene the music was not as popular as it had been in previous years and personally I think around that time, from the outside looking in, there was a kind of negative feeling about the Drum & Bass scene in general.
Having known each other for at least a couple of years by then we all sat down and decided the time was right to try and bring Drum & Bass back to South London. I think when we approached the management at Plan B, we were the only Drum & Bass promoter on their books so in December 2011 we decided to put on our very first Drum & Bass night. We didn't expect it to be as popular as it was, we just wanted to do things our way and put on a night we wanted to go to. On reflection quite selfish really, however, over 200 people agreed so maybe not!
How would you describe the vibes of innerSoul nights?
Well I'm probably not the best person to answer this question as I'll be accused of being biased…however from what I've been told; "our nights create a vibe that is unique and not often found within other club nights."
Not my words obviously!
Let's flip this question a little, how would you describe the vibes at innerSoul?
Yagga: Well I think this photograph of all the bass faces captured from the last night speaks for itself. Big tunes, pure vibes and lots of fun!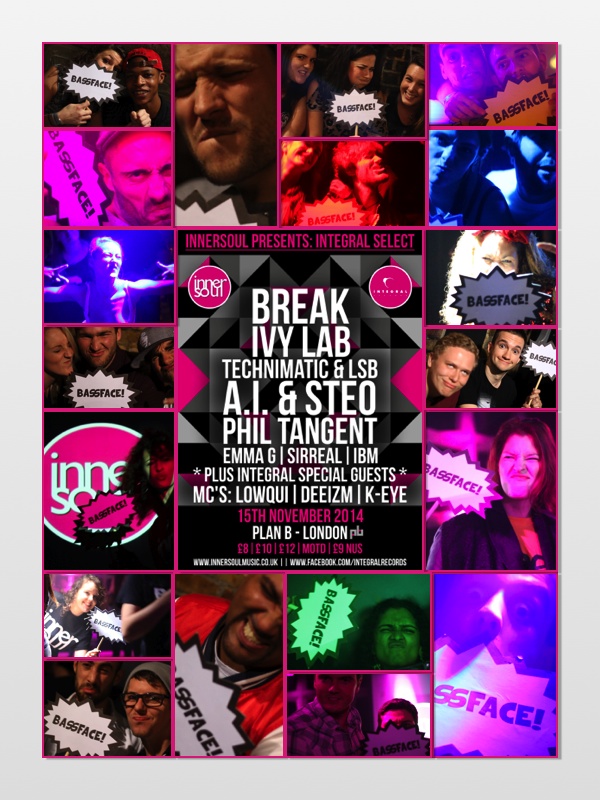 At your last night in Nov, you were collaborating with Integral Records, was it a successful night?
Yes it was. We had a great time working with Integral guys. It was tricky at points but that's expected when working on big nights like these. A special mention to Glenn from AI, Emma G and our boy SirReal who did an amazing job liaising with all the DJ's & MC's, bringing them together for that night. It was another party of "amazing vibes" (not my words remember ;-))

Do you usually connect with other labels to put on events? Who else have you collaborated with? Any more collabs in the future?
Not usually but 2014 was a year of collaboration for innerSoul. Along with Integral, we teamed up with Fizzy and the guys from SUNANDBASS. Both nights were a great success and it was a real pleasure working with them. A special mention goes out to Deefa and the Fizzy Team for all their hard work during the event back in June 2014. Also a big shout going out to A-Sides & Stefano who with SUNANDBASS helped us raise money for the legend MC Fats.
For the moment we do not have any plans to do another collab night; but the year is still young so you never know.
Tell us about the next innerSoul event coming up 20th Feb.
Well… quite simply… Fabio, Randall, Storm, Eveson, MSDOS, The Wook & S1DJ with our hosts, K-Eye, Deeizm, Blackeye & RMC. What more can I say… Real DJs playing the music we know and love. Check out the flyer below…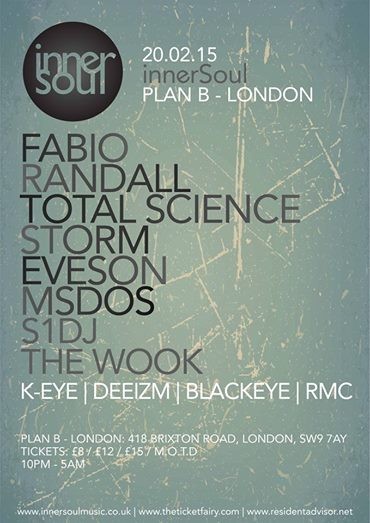 What were the highlights of 2014?
That's a hard one and I can't speak for everyone at innerSoul so I think maybe we should hear from the rest of the crew:
S1DJ – Being featured as one of the top 5 nights in the UK in DJ Mag was a personal highlight for me. I rushed straight to the newsagent to buy a copy on the day of release.
SirReal – Knowing that over 2000 people came to our events over the course of 2014 is very humbling.
IBM – Mine was standing in the DJ booth watching Break & GQ. The atmosphere during that set was off the hook. Watch the intro here
Menos – For me, standing at the back of the upstairs room at Plan B, watching the crowd going for it too Golden Girl and being in awe of what we created. During that set there was a point when Soul Patrol was playing and it just went off… See the video for yourself here
The Wook – Our night last September was the one for me. Having arguably four of the best international artists in the D&B scene was a real highlight. Some of the best in the game!
Soula – Personally going around the world to places like Colombia and India and meeting people who knew about innerSoul! It was a massive shock but an amazing feeling at the same time. I had no idea we were known in countries like these and hearing positive messages from people on the other side of the world was something special.
What can we expect from innerSoul in 2015?
More of the same really… but more (if that makes sense). New events, new website, new podcasts and just more innerSoul vibes!
We have some very exciting events in the pipeline that we can't wait to announce to you guys.
Something that has been confirmed and we can share is that we are taking over one of the tents at the Shibui Festival for an evening of innerSoul. Expect residents in full attendance. Event details here
As mentioned, look out for our monthly innerSoul Music Podcast which will be presented on rotation by the full innerSoul family, with the first one hosted by myself, so check it out! We have just released this so expect new music and general Drum & Bass frolics each & every month for the foreseeable future. Head over to our Mixcloud & Soundcloud pages for more info.
On top of all that we will be announcing some very exciting news regarding the innerSoul Music record label later on in the year so be sure to look out for that.
Where can people get more info about your events?
Come and find us!
Also check out the resident's pages. Hours of fresh mixes and tracks:
S1DJ – Runs the label LDMusic, so you'll more than likely catch him there! Or on the LDMusic Soundcloud
Is there anyone you would like to big up or give a shout out to?
To all the DJ's and MC's who have performed at our events… We love your work guys.
Everyone at Plan B, SUNANDBASS, Integral and Fizzy.
And most importantly to all of our supporters; it's you guys make this happen and without you innerSoul wouldn't keep progressing. So from everyone at innerSoul, we send you our massive respect! BIG UPS!
Any positive messages you wish to share with the people?
The Wook – "May the force be with you."
IBM – "Low frequencies are good for digestion."
Menos – "Thank you to everyone who came to our nights for their support."
S1DJ – "Never eat yellow snow, and watch out for those red squirrels."
SirReal – "Racecar is spelt the same backwards."
Soula – "Don't worry if plan A fails, there are 25 more letters in the alphabet and remember no-one likes a 'Vibe Sniper'
Finally, for anyone who hasn't been to one of these popular events check out the video below. All footage was taken from the innerSoul & Integral night which we talked about earlier in the interview.
Mega thanks to the innerSoul crew for sharing with In-Reach, big ups to you all 🙂