Horrific Recordings are back with their second release this year, following on from the success of  dramatic & dB Audio's Horrific 001. Horrific Recordings are a fresh 2014 D&B label based in Bethnal Green, London. Pushing 100%, strictly vinyl only.
Horrific are now proud to present their second 12" with Hold On by Ego Scene & DJ Lighta. Another duo, this time hailing from Manchester. 'Hold On' has already been causing a stir with recent ministryofsound.com radio play by Fabio, in April 2014 and club play by Clive Ingredients at Fabric. Its a groovy uplifting piece with a blissful Hypnotic female vocal sample, marching drums, a booming bassline and a superb 'house style'  piano break down to please the house fans. Sunshine vibes fresh for the upcoming 2014 summer! You heard it here first!
 Be warned this is the ultimate club anthem, only  available on Horrific Recordings. Limted to 300  copies  only, 140gram MPO vinyl. Full clips of the  release can be found below.
 BUY VINYL HERE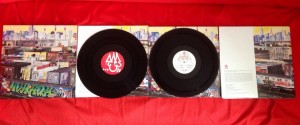 [soundcloud url="https://api.soundcloud.com/tracks/143870415″ params="auto_play=false&hide_related=false&visual=true" width="100%" height="450″ iframe="true" /] [soundcloud url="https://api.soundcloud.com/tracks/143857929″ params="auto_play=false&hide_related=false&visual=true" width="100%" height="450″ iframe="true" /]