So here we have it, the latest edition from the Ronnie Fieg x Asics collaboration series entitled Gel Lyte V "Mint Leaf" and "Cove".
First of all, for those that aren't familiar, let me tell you a little bit about the infamous Ronnie Fieg as you'll probably have noticed his name has become almost synonymous with high profile sneaker releases in recent years.
Suffice to say, Fieg has earned his title for being one of the most prolific shoe designers of all time as his list of collaborations include some of the most well respected and sought after brands such as Timberland, Adidas, Clarks, Saucony, Harris Tweed, Puma, Dr. Martens, New Balance, Ralph Lauren, Herschel and many more.  After starting work at a young age with New York shoe supplier David Z Shoes, Fieg worked his way up through the company to eventually become buyer and then head buyer, respectively, putting him at the very hub of the footwear world.  Many years later in 2011 Fieg started his own store, Kith, dealing predominantly with major brands alongside his own creations and collaborative efforts.  Kith has also been the exclusive retailer for a number of Fieg's limited edition designs such as the Gel Lyte V "Mint Leaf" and "Cove" which were released on April 5th of this year but have, unfortunately, long since sold out.
In a recent publication on his website, Ronnie Fieg said:
"Over the years my friends have continually asked me to re-release some of my previous projects. The Cove and Mint Leaf ASICS Gel Lyte III's from year's past were released before I was able to open Kith. I would never simply re-release or "retro" one of my releases"
This was devastating news for the sneaker heads around the world, myself included, who were un able to cop a pair of the Gel Lyte III's released in 2010/11, as they were without a doubt, two of the most stunning pairs i've ever seen.  So you can image my utter jubilation when Fieg later went on to say that he would be re-releasing them in an updated Gel Lyte V format.
The updated "Mint Leaf" and "Cove" designs boast the same high quality materials used in the original Gel Lyte III's with pig skin and nubuck upper with breathable mesh panelling, perforated toe box and neoprene sock, the only major difference, which has been widely disputed on sneaker forums, is the updated V's don't have the classic "clam shell" tongue, which personally, I think complete the shoe, but that's just my opinion.  The shoes both have an off-white midsole and grey outsole and come complete with a selection of four, yes FOUR laces to choose from, Fieg certainly knows how spoil us!  Alas, as I mentioned earlier, both the Mint Leaf and Cove sold out in no time despite the whopping $160 price tag.  There are still a few pairs floating around on auction sites but will definitely test your dedication as the prices are, understandably through the roof.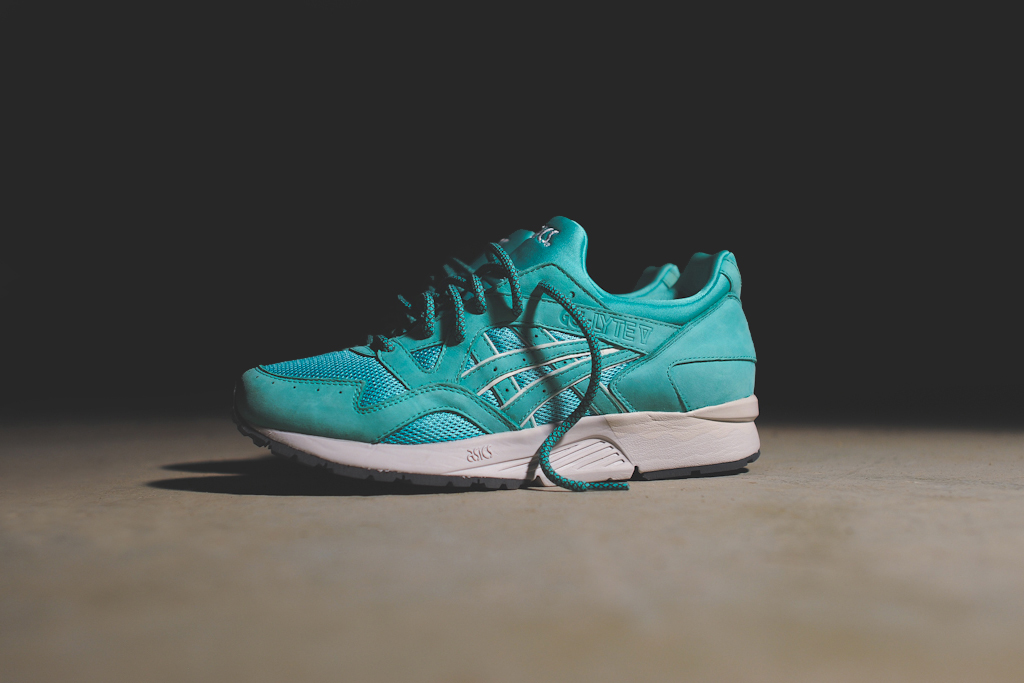 Needless to say, these are yet another absolute win from Ronnie Fieg and the team at ASICS, i'm already desperate to see what more they have in store! So until next time . . .

[x_share title="Share this Post" facebook="true" twitter="true" google_plus="true" email="true"][author title="About the Author"][recent_posts type="post" count="3″ orientation="horizontal" fade="false"]