Engage Audio and Sine Series are teaming up once again to bring you a party to remember. Having joined forces back in April it's a tried and tested combination. They delivered an 'out of this world' experience with their last Space themed DnB event at The Cause. This time the settings have been brought down to planet Earth and deep into the jungle for 'Amazonia'.
The team behind Amazonia will be bringing you a combination of world class headline acts, along with some of their favourite, hand picked up and coming DJs. All this will be draped in a custom built Jungle setting boasting one of the best sound systems in London custom built by CORE on site specifically for the venue.
Room 1 // The Canopy
Walk through the door of the cause and leave 2019 city life and travel straight into the depths of the Amazon rain forest. The main room will host some of the biggest names in Drum & Bass, who will beating their drums from the tree tops bringing you the very best in future jungle and DnB. Where better to have the wildest night of your life, than deep in the wilderness.
Doc Scott
Ant TC1 b2b DLR (Dispatch 360 Sound Set)
Data 3 b2b Revaux
Tephra & Arkoze
Melysma
APEY
Room 2 // Tribal Village
Venture further into the unknown and discover the world of the lost tribe, who live their life at 174bpm and happen to be some of the best DJs in the scene. Talk about a rumble in the jungle!!
Amoss
Philth
Arkaik
Rizzle
Structured
Four Points
Ryski
Hosts across both rooms:
Codebreaker // Gusto // Joe Raygun
Bazil // Peas // Subliminal // Soup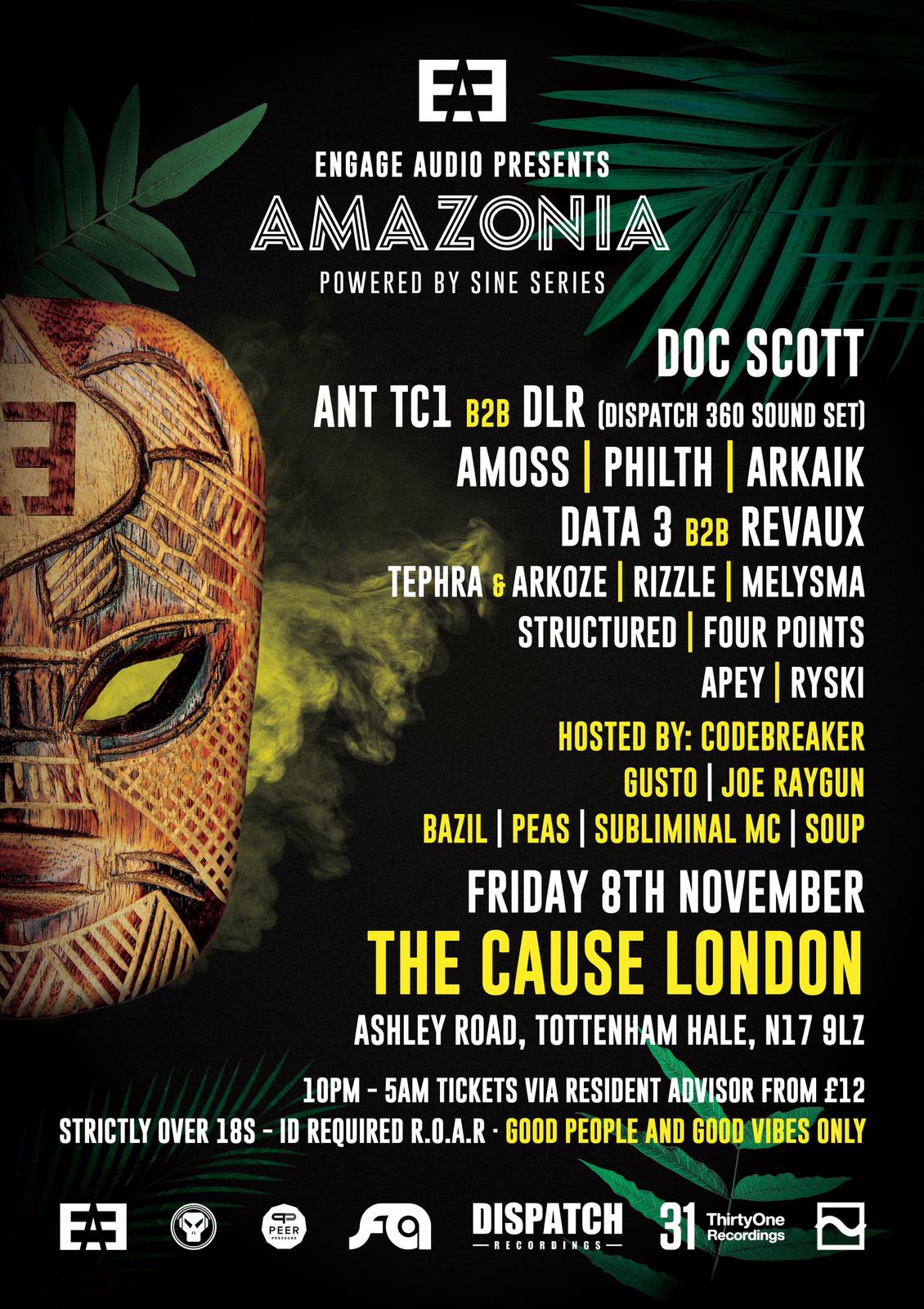 If you didn't know already, The Cause is a temporary DIY space for London, celebrating the very best in dance music culture & London nightlife. Held within an ex car-mechanics depot, the highly rated industrial venue hosts a labyrinth of interconnecting outdoor and indoor spaces giving it a truly unique atmosphere for parties. Room 1 is centred around the DJ booth which is situated within a metal cage giving raver's the opportunity to get up close and personal with the headliners. Room 2 offers the feel of a bunker, with the DJ booth set into the wall in this tight space giving a true warehouse rave experience. With it only being a temporary space this only adds to the romance of The Cause knowing it won't be here forever.
So make sure you get down to The Cause on Friday 8th November for what's sure to be another unforgettable night in the deep in the Amazonia. There will also be a prize for the 'best dressed tribalist' with the winner to receive a heap of Engage Audio & Sine Series merch so make sure you get involved for a chance to win!
Tickets can be purchased right here