With no introduction needed, UK / Netherlands super combo June Miller, AKA Mark McCann and Bart Van Dijk, are at the pinnacle of new age drum and bass talent. With releases spanning from Horizons to Demand Records, Commercial Suicide to their well deserved 2013 signing to Andy C's prestigious RAM Records. They have already had three releases and an EP for the label in that time, each showing their incredible knack of bringing a vast variety of styles to the table. Now the much anticipated long play is upon us and in a word, it's amazing. 'Robots & Romans' depicts exactly what June Miller are about and that is uncategorised, unadulterated and powerful drum and bass. Whether its hard-hitting tech bangers, steppy rollers or silky smooth liquid; June Miller can do it all.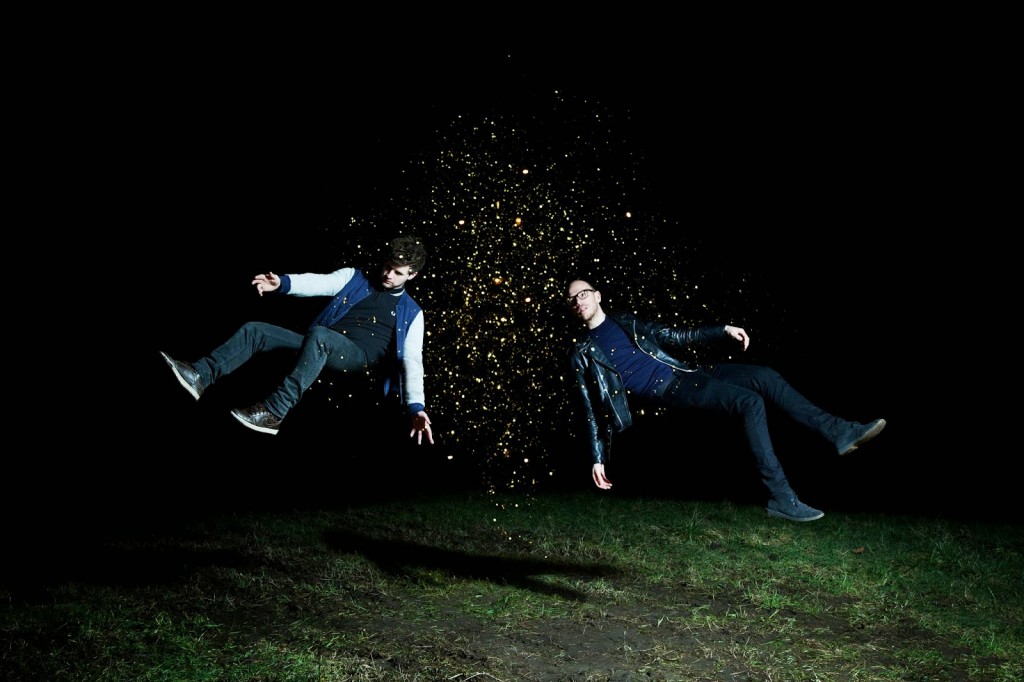 Warning – Intro pressure! The title track 'Robots & Romans' keeps you on the edge with a movie-like narrative giving the impending feeling something massive is coming. With angelic humming and winding basses steadily creeping, combined with revolving drums that build more and more, until finally that stomach-wrenching drop hits you like a freight train! Vicious bass and clunking drum breaks makes this track a stand out from the LP.
The aptly named 'Chain Of Strength' employs a soft piano intro, before the serenity is abruptly interrupted by a ruckus of drums like some sort of battle charge, before dropping into a kick-heavy bout of warped, almost slap sounding bass. The continuous rolling drum feel and super snappy snares makes this one a mover and a half!
Next up is 'Slow Down', this is where we see June Miller's aforementioned knack of completely switching it up. The swirling intro coupled with full-kit rolling drums disperses unexpectedly with the command of the "Whoa, Slow Down.." vocal sample, as the listener is dropped into a howling half time stepper. Watch yourself on the dance floor when this is played!
Now for another astonishing flip of styles; we have the hypnotic 'We Are Not Human' featuring the melancholic tones of Hannah Lux. This is a personal favourite from the LP. The listener is greeted with gleaming chimes and soft strings before a simple yet effective drum line sets the pace for an incredibly warm drop with the soothing lead vocals. Mental images of summer evenings with close friends or loved ones makes this one significantly special.
An antagonistic Japanese war time interlude then sets the scene of hostility, shaping the listener up for what's to come before we are straight back in at the deep end with 'Last Night On Earth'. Now, if the name of the track doesn't alarm you slightly, the sounds will! We are met with some sort of laughing Japanese kung-fu master vocal clip and sword swipes that maliciously lead into a grinding bass-heavy whirlwind of regimented snare rudiments and stomping kicks. June Miller certainly know how to make you feel uneasy in the most awesome of ways!
Keeping to the theme of sonic savagery – Next up is the utterly mental 'Saus' with Austrian tech monster, Mefjus. This was released as part of their 'Ups & Downs' EP earlier this year. With shuddering pads and piercing drums, I've witnessed the damage this can do on the dance floor! This track really showcases June Miller's appreciation of other genres with metal flavours weaved throughout. Mid-set mayhem is guaranteed to ensue when this one is drawn.
Maintaining the warlike theme that's been exhibited throughout, we have 'Brace'. Marching battle drums and some kind of super-macho Spartan drill command paves the way for the brutal driven bass and chugging riffs; alluding to an extreme bass-heavy slammer! Perfectly depicting the scene, as the LP titles suggests, of some sort of intense Roman battle. The drum breaks in this one will really get you going.
Now, for one that's been an opener on dance floors for a little while now. If you are an avid drum and bass fan and haven't heard 'Bad Brains' yet, I'd suggest you reach more nights! But seriously though, this one is a killer. Tremendous looping bass and terrifyingly sharp drums makes for a deadly choice to murk the dance. I imagine this track to be Mr Happy's sinister evil brother.
Again showing their immense versatility, June Miller strikes with the ultra cool, grimy stepper 'Stormtrooper' featuring some tough vocals from Manchester grime collective Virus Syndicate. Ringing off sounds reminiscent of Dub Phizix and Strategy, but with the distinctive June Miller flavour. The clicky drum line fused with a gritty bassline and bleeping pads make for an extremely immersive sound. I'd like to see what else June Miller can bring with this style.
Another interlude connects the tracks continuing your journey through Robots & Romans, a more sombre affair with this one with heartfelt strings and drawn out cymbals merging with delicate piano notes, a noticeable contrast to the last interlude bringing the pace down somewhat and setting the scene for the track 'Further Seems Forever'. This one really evokes emotion, with pulsating pads and a tight yet smooth, skippy drum line integrated with the moody vocal. Giving off that Ivy Lab vibe, this one is yet more evidence that June Miller really can do it all.
Then its 'Oblivious' which id say is more of an ethereal spoken word piece as apposed to an interlude, but with western style steel guitar guitar strums and powerful dramatic speech then developing into steady percussion and graceful strings showing June Millers combined musicality and love of sound as a whole, not just drum and bass.
Nearing the end of the journey we have 'Ups & Downs' the title track of the EP released earlier on this year, featuring T & Sugah and Anouk Visée. This one starts with deep organic pads and soft vocals quickly advancing into a percussive outburst of vocal chops, steady kicks and ravey synths. Another notch in this extremely impressive display of variation from the duo.
The LP fades out with a piece featuring the talents of Russian vocalist Tiiu and fellow Netherlands producer Mindmapper. The dripping water and haunting vocals really settles the listening experience on a soft and indulging note.
I couldn't recommend this album more. Robots & Romans is spectacular display of June Miller's talent, not only as drum and bass producers but as an extraordinarily musical minded duo. There is something for everyone and it's all crafted immaculately into this long player. There really isn't much more to say on the matter other than get listening as soon as you can!
Available to buy at all good physical and online outlets…
Vinyl: https://ramrecords.com/shop/vinyl/rammlp23
Download: https://ramrecords.com/shop/download/rammlp23d
Beatport: https://pro.beatport.com/release/robots-and-romans/1542541
[x_share title="Share this Post" facebook="true" twitter="true" google_plus="true" email="true"][author title="About the Author"][recent_posts type="post" count="3″ orientation="horizontal" fade="false"]