Less than a month until Addictive Behaviour and ourselves take over The Qube Project (London Victoria) for a night showcasing the very finest drum and bass has to offer right now! We got legends like Doc Scott & Commix (full line up below)… and then there is these guys: Tephra & Arkoze aka Rhys & James. If you don't know these lads basically they only need to go near a tune to turn it into something deadly and I personally have seen em merk off dance floors across the country, if you haven't seen these two play out before well… time to change that!
Just like you and I these two are totally mad for D&B and they're also crazy passionate about mixing. The most recent example we have for you would be the monthly In-Reach Show – RudeFM – which we recorded LIVE on the last Friday of the month just gone… So cue the mix above and check what Tephra & Arkoze had to say below…
Proper tear-out up Rude the other day guys, selection was on point! Thanks for coming up – we certainly enjoyed it 🙂
So you two have been busy in the studio recently! Your latest release alongside Survey, Pattern, on Invisible Recordings really packs a punch! Tell us about a couple other of your favourite tunes at the moment.
Tephra & Arkoze: Firstly, thanks for comments about Pattern.  We are both really feeling the latest Break L.P, especially 'The Flux' and 'Confidential'.  We feel both really depict modern/future dance floor tech vibes in DNB right about now.  Xtrah is really hitting the spot as well.  He has got a naughty forthcoming release on Invisible, which is absolute fire.

Any forthcoming bits from yourselves the reader should be looking out for!?
Tephra & Arkoze: We have got forthcoming releases on Proximity recordings and Nurtured Beatz out next year.  We also have stuff coming out on some other labels, which we can't announce right now, but are very excited about.
James, you guys played Sun and Bass this year right? how was that!? Gutted we couldn't be there this time around man. In 2016 we'll definitely be looking to reach! Recon you will get to play again?
Arkoze: It was amazing. It was also our first time there, so to play at Bal Harbour Just topped the icing for us.  We played a deep liquid set, which is different for us, but being in the sun mixing liquid to DnB lovers was a magical feeling.  Yea you guys definitely need to hit up next year, would love to see you out there.
As for playing next year in 2016, who knows?  Obviously we would love to and it would be an honour, but as we all know there are many talented Dj's and producers out there so we will have to wait and see.
Rhys (the festival expert) what was the funniest thing you saw out there in Sardinia!?
Tephra: The highlight was coming back to the villa with James to meet a guy we would be staying with for the duration of the festival who we had never met before.  We were both pretty drunk and walked up the drive when we saw a melon carved out with a sketchy looking face with a cigarette hanging out its mouth and a baseball cap on top of it. Standing next to the melon was an Australian guy called Seb who became good friends of ours.  To meet a guy you had never met before and for him to greet you with a melon like this was comedy gold. It was random but funny as hell.
"Greetings"
Jokes! So do you two do anything differently when preparing for a set at a festival compared to a standard club night? I'm interested in how you are going to approach our event on December 4th!? You build and really flow sets in the club well, respect! Do you plan to any extent or is it a case of rock up and plan to have no plan! – just roll out!?
Tephra & Arkoze: We like to prepare for all sets, so preparing for a festival is know different really.  We find a planned set always goes down a treat. We both like free styling but always find that when a mix is prepared it provides more of a story feel to the set, which almost takes people through a journey providing intense but at times also chilled uplifting vibes.
Cool, well I know you guys to be extremely versatile when working the decks, real vibes guarantee! We have you down in the In-Reach room 11 till midnight, an important set (with time to enjoy the rest of the night!) What kind of vibe might we expect from ya? how would you describe your mixing style?
Tephra & Arkoze: Yea we are really looking forward to it.  Huge line up, can't wait to see Doc Scott, Commix and Halogenix.  Then again the the list does just go on, so where do we stop!. You can expect us to provide dark, deep and funky vibes.  We would describe our mixing style as blending rather than sudden snappy mixing that provides musical yet hard hitting vibes.
Really looking forward to it, going to be a perfect way to get things going proper on the night 🙂 So finally, if chatting to a raver, who else would you recommend seeing DJ on the night and why?
After seeing Nick E.P and Spectrum mix on Rude when we did our guest mix we would highly recommend seeing them! They know their tunes and have some seriously sick dubs as well as vintage material.  Also these guys mix with plastic as well as Cd's which is always nice to see in the modern era of mixing.  We would also advise seeing Halogenix as we are both huge fans of his production and is sure to provide some funky dubs on the night. I would also recommend seeing Doc Scott and Commix as we all know what huge talents they are in the DnB scene.
Wikid lads, big ups and thanks for taking the time to chat to us… Go easy… Until the 4th December rolls around that is 😉
So that's it for now, don't forget to grab your tickets below and next week we will be talking with the mighty Horrific Recordings so watch this space!
[accordion] [accordion_item title="TICKET LINKS – CLICK HERE"]UKF Live:
http://bit.ly/Tickets-UKFLive
Resident Advisor:
http://bit.ly/Tickets-RA
Skiddle:
http://bit.ly/Tickets-Sk
Deftickets:
http://bit.ly/Tickets-Def
Ticketsellers:
http://bit.ly/Tickets-Ticketsellers
 [/accordion_item][/accordion]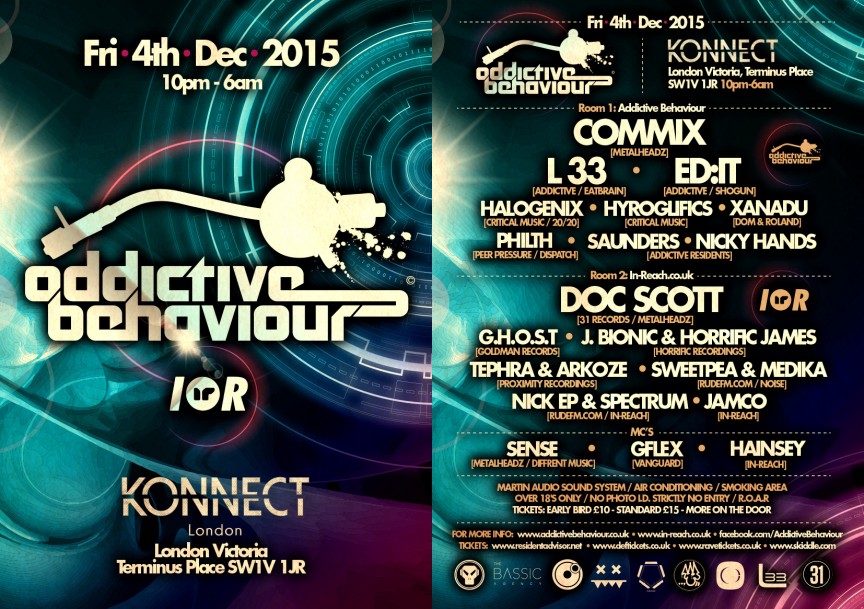 [x_share title="Share this Post" facebook="true" twitter="true" google_plus="true" email="true"][author title="About the Author"][recent_posts count="4″]