A little something to look forward to.
Rinse are bringing Born & Bred back for a second year after its huge success last year, and they're expanding it into a weekender.
Me and Hainesy rolled through last summer and best believe (108.9 on ya dial) it was a madness.
This year it looks set to be even more grimy, which in my humble opinion means even better than last year. They've just released the first wave of acts and there's so much relevant grime that we're truly gassed.
Novelist is on there, having recently split from The Square to pursue his own thing and undoubtedly killing it, just been on the cover of MixMag which is large in itself and featured on a Baauer track which was on the Superbowl commercial. Im living in Florida right now you don't understand how crazy that was to hear that on this side of the pond on the one thing most televised in the country. Born & Bred is proof that Rinse are pulling out all the stops to get on top of the Festival scene.
Two more to make sure to see are AJ Tracey, who's 'Naila' is currently my favourite tune, and Bugzy Malone who's taken it upon himself to prove there's a grime scene outside of London.
Then for all the DnB heads there's the king Calibre on decks, along with Marcus Intalex and Youngsta to name a few. Honestly this line-up is so dutty I could write an essay on it (Swamp 81 are in town what else needs to be said) but you should check it yourself, here's the first wave lineup below: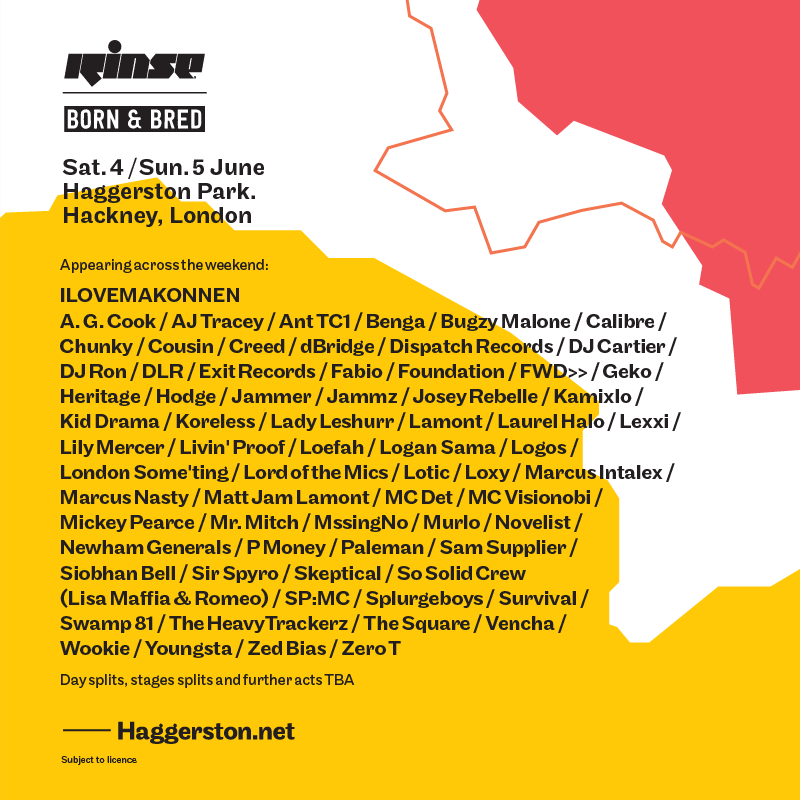 Cop yourself them tickets here.
Buzzing for this one, swear I've heard too much rap out here I'm having grime withdrawals.
Rinse big up yourself!
Franklin.
[x_share title="Share this Post" facebook="true" twitter="true" google_plus="true" email="true"][author title="About the Author"][recent_posts count="4″]